It is important for all size of businesses to make a good digital footprint. Our professional web design services offer excellent professional web designs with full functionality and optimized layouts. We work hand in hand with our customers to ensure they get everything perfect for their site.
We are dedicated to making a big company from small business by increasing their branding worldwide over the internet. We use our latest technology to build each and every part of your site by keeping in mind about the user-friendly experience.
We ensure that your industry experts and professionals are engaged on each step on the way of success. For your all digital needs our team is always there to help you whether you want us to re-design a site or want to convert your old or existing site to fast responsive site.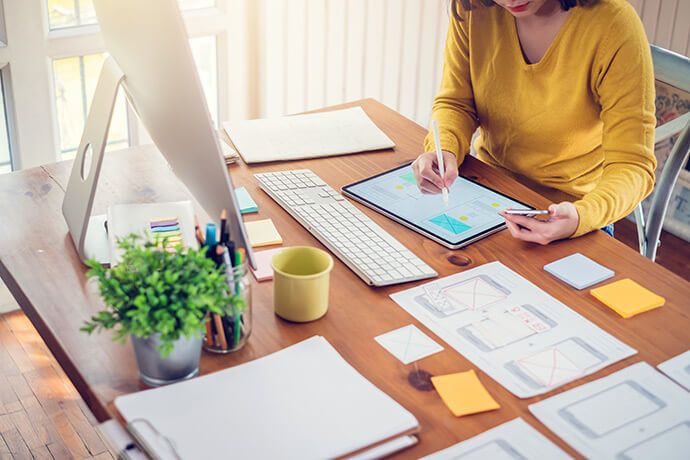 THE DESIGN PROCESS
We treat every project of customers as it is our own work. We build nice, clean, modern and functional sites that increase your customers every time they visit. We also build tailored sites according to your choice. We feel pride when a business grows with our technical help.
First of all, we listen what are your need then our technical team sits together and create a plan. In next step, we show that to our customer and to get approval from them and if they want us some changes we do on the spot. When the blueprint of the website is approved by the customer then we go for actual designing. Our experts keep in mind the competition that you are facing while designing so that you pass your competitors easily.
We build targeted websites, this means a site for a specific group of people or customers or for a particular geographical area.
CLEAR CUT MESSAGE
First step in web improvement is transfer your message to your audience clearly. Here comes the need of clear home page. Make your homepage neat and clear which reflects everything about your products or services. Because visitors do not read full content they first scan the page and if they find it relevant then they stay to take further actions. There are only a few seconds to convert a visitor into the customer. In order to get maximum impact on every visit site messaging should clean and well crafted.
PURPOSE OF SITE
The purpose of your site should be clear so that visitors know easily what is in there for them. User pathways encourage people to take the quick and positive decision which convert them into customers and a trust bond between them and your brand.
YOUR TEAM
People want to know who is behind the business to whom with they are doing business. This increases the trust bond so you have to make a different page which tells about experts.
ADD SOME VIDEOS
It is a good idea to add some videos because some do not like to read the lengthy content they just want a short and smart answer. Moreover, in videos, you can show your work process like how it works or your office or place of work.