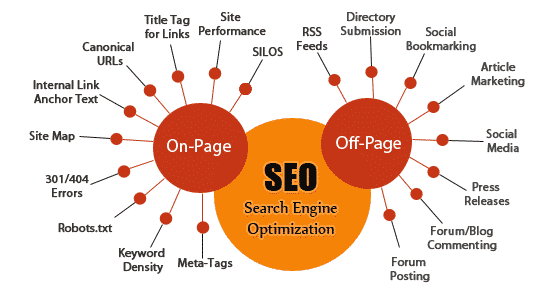 SEO consists of two distinct categories. Technical and structural. Technical SEO refers to backend programming and structural elements of your website. Both have the same goal of getting your website ranked higher for relevant search terms. Technical SEO is an important part of your overall web strategy and is the most commonly performed type of SEO. It is essential to know what you're doing before you start implementing it to maximize your results. Here are a few examples of different types of SEO:
On-page SEO
On-page SEO refers to the techniques and tactics used to improve the search engine rankings of your website. Good content is the foundation of on-page SEO. It tells search engines and readers what your website is about. Good content begins with keyword research. To find keywords, use Google and other websites to research terms. If you don't know what keywords to use, you can also use tools like AnswerthePublic or UberSuggest to identify popular keywords. When writing page content for SEO, use short and long-tail keywords naturally. For example, you should create buyer personas and target specific keywords.
Another factor to consider is performance. Pages that load slowly tend to rank lower in SERPs. This not only frustrates users, but increases the bounce rate. Search engines evaluate performance and speed, so marketers should consider image file sizes, reduce redirects, and optimize for mobile-responsiveness. They should also minimize the use of Javascript and CSS. If you don't want to spend the time to optimize each page individually, use a website audit tool.
Another important element to on-page SEO is internal linking. Internal links help crawlers understand your website structure and keep visitors on your site longer. Breadcrumbs are small text paths that indicate where a user is on your site. Internal links to other pages on your site should point to the page that is being optimized. If possible, use keyword-focused anchor text. To improve the search engine results, you should link out from your most relevant pages.
On-page SEO requires many different pieces, but they all lead to higher conversion rates. An online tool like On-page SEO Checker analyzes your website and provides optimization ideas under several categories of on-page SEO. You can review suggestions under a specific category or view the recommendations of the top-ranked pages in the category. Once you've logged in, select the location, crawl settings, URLS, and keywords. Afterwards, review the results for your site and determine whether you need to make any changes.
On-page SEO does not follow strict rules for keyword density, but your keywords should appear naturally throughout your page. Aim to have a keyword density that is similar to that of the highest-ranking content on the search engines. Other effective on-page SEO tactics include using synonyms, long-tail keywords, and related terms. While these strategies are not quite the same as latent semantic indexing keywords, they all build context, which is important to Google.
Off-page SEO
Although on-page SEO is easy to control, off-page SEO is a little trickier. Even though on-page SEO is vital, you can't control everything that happens off-page. While you can enforce good content, the best way to achieve the best results is to gain quality links. Link building is the most common technique used off-page. By creating backlinks from other quality websites, you can bypass your competitors and tell Google that your article is worth reading.
Off-page SEO focuses on building reputation and trust from the outside. This can make a huge difference to your brand's online presence. Off-page SEO is not all about link-building. Brand-building is essential to Google's algorithms and attracts more traffic. You can do this without building links, and you can also take advantage of citations and a Google My Business listing (GMB).
There are many methods you can use to increase your website's visibility. In some cases, you can even get links from other websites, which are beneficial to your business. While on-page SEO involves tweaks on your website, off-page SEO involves a variety of tactics, including outreach to third-party websites. Using social media can help you increase your brand's visibility on social media. And because off-page SEO is so important, it's well worth exploring.
Backlinks are important for a variety of reasons. Not only do backlinks influence rankings, but user experience also affects the value of a primary keyword and any related keywords. Your backlink profile should reflect your website's overall quality and user experience. For example, Google Penguin wasn't targeting sites with few inbound links, and it didn't target websites with low-quality backlink profiles. You can boost your off-page SEO by building high-quality links from trusted sources.
Off-page SEO includes all the signals that search engines use to determine whether a website is valuable. For example, inbound links are one way off-page SEO helps improve your site's value and make it more desirable to link to. By boosting these signals, you'll increase your site's authority and relevance. As a result, more users will visit your site. You will also increase traffic and brand awareness. Off-page SEO also helps you build brand awareness.
Voice search optimization
Voice search optimization affects keyword usage and on-page optimization. The concept of voice search optimization is closely related to Google's Hummingbird update, which focuses on semantics and implied meaning when matching queries. Machines need to be able to determine the intent behind the search in order to return the best results. For this reason, voice search optimization is a crucial strategy for local businesses. Voice assistants are becoming more popular, as users can order a product or service through their voice.
While the basic principles of regular SEO apply to voice search, the specifics of this type of search are different. Users who make this type of search are typically seeking information and are already planning to make a purchase. As such, the content on your website must be created to match that context. In addition, artificial intelligence technology can help you track and cater to user intent. Here are a few tips for voice search optimization:
The first tip for voice search optimization is to create content with answers to frequently asked questions. People often ask "who", "when," "where," and so on, so building content that answers these questions is crucial. While you may not be able to rank highly for every single voice search query, it's still beneficial to make sure you have enough content to attract the attention of consumers. Voice search optimization is the future of search marketing. In the digital age, people are looking for information fast, and it's important to keep this in mind.
While keyword research remains important for any SEO strategy, it is even more important for voice search optimization. This format requires the use of relevant keywords and phrases that are conversational and filled with filler words. Using the right keywords will ensure that you get the best results. Using a good SEO strategy is a must for any website. Luckily, there are plenty of tools available for voice search optimization. And if you don't have the time to create unique content, consider using a free service such as SEMrush.
Using voice search assistants has become a popular trend. Depending on which industry you are in, the impact of this new medium on search marketing is expected to be massive. By 2021, half of all searches will be voice-based, and SEO is now paying more attention to it. This is good news for users and for your website's SEO ranking. In the meantime, voice search optimization is a necessary step in digital marketing.
Mobile SEO
For your site to rank well on mobile devices, you must optimize for a range of metrics. In addition to keyword optimization, mobile usability is also important to a successful mobile SEO campaign. Google is constantly tweaking their algorithms to better reflect mobile searches, and if your site is not optimized for mobile, you may not be able to show up in the search results at all. Fortunately, there are a number of ways to make your website mobile friendly without spending a lot of money.
Mobile SEO is important because it helps improve the overall experience for visitors and keeps them on your site longer. Google also has indicated that it considers mobile performance in determining site rankings, and recommends a page load time under 3 seconds, which will reduce the risk of users abandoning your site. By optimizing for mobile, you can reduce the risk of user abandonment and increase your conversion rates. Read on to learn more about the different ways that mobile SEO can benefit your website.
One of the simplest ways to improve your mobile SEO is to use responsive design. This method requires only a single URL for desktop and mobile versions of your site. This method is better than dynamic serving, which uses server-side technology to serve different versions of the same content on different devices. While the URLs remain the same, the files will change. It's also better to implement a mobile-friendly design. You can use mobile-friendly CSS to make your site more user-friendly.
Google has made it easier for users to view your website on mobile devices. The search engine must be able to access all the files it needs to index your website. For mobile SEO, these are the two most important file types that you need to focus on. Javascript and CSS are essential for your website's design. Using Flash or Java can be problematic for your site. Pop-ups also have a negative impact on mobile users. If your site does not load on mobile devices, it will not rank well in mobile search results.